Making community has always been important to my sense of livelihood. If you were an ant on my wall, every week you would witness me catching up with long distance friends, sometimes through shared reading and writing projects. This year (2019) I successfully finished four philosophical texts with my reading buddies!
Making local community, where encounters between differential ages, cultural upbringings, and economic statuses is also important to me. In these happenings, I think of myself as a lifelong learner at the same time that I consider my material presence in them a political maneuver. By building communal connections with folks whose paths might be different then mine, but connected in some way (e.g. dancing, reading, performing, science publicizing, retail-working), multiple forms of material relationships are made possible. In other words, while I thrive in the comforts and challenges of long-term friendships, I also find it life-giving to experience multiple kinds of relationships. Having multiple kinds of relations somehow keeps my thinking about the world and about vibrant-living on the move.
Below I share about some of my recent community connections and how I have experienced being a learner and a material force (making different kinds of relations possible) within them.
Confronting the employee-friend boundary
In 2013, I began attending a doctoral program in a different state than the one to which I had recently moved. In my "home" state, my engagement with community was what I considered nonexistent for the first two years of my program, that is, with the exception of folks at the local grocery store. At one point, I realized that I knew most of the store's employee's names and I was in the habit of mulling over daily life with them. I wondered, "Is this weird to them? They feel like 'friends,' but are they really? (Maybe they're just being nice because they have to.)"
I decided that I was in the business of inquiring about customer/employee/friend relations and I was going to start figuring through this terrain in multiple ways. One way involved devoting a class research project to learning about the life experiences of these professionals whom I regularly engaged, including what led them to retail, and about their affectual experiences moving through the store and responding to employees and customers.
Another way involved my own application to work in retail. I decided to work part-time at a store down the road where I wouldn't have to be around food all the time (ha!). My learning curve for retail was hard in multiple ways, including being on my feet all the time, continuously cleaning messes I didn't make, constantly getting cuts on my fingers, and being interrupted or interrupting tasks to help customers. I also found myself going to sleep running through the spatial process of item locating: "'3-1-2' means over 3 shelves, up one shelf, over two product spots." And yet I found delight of working as a team alongside high school students, college students, seniors, and retail-professionals my age and younger. Participating in a mixing of status assignments across age and socioeconomic status, carried a nice feeling of flattening against the otherwise striated and hierarchized modes of social relating across age in academia.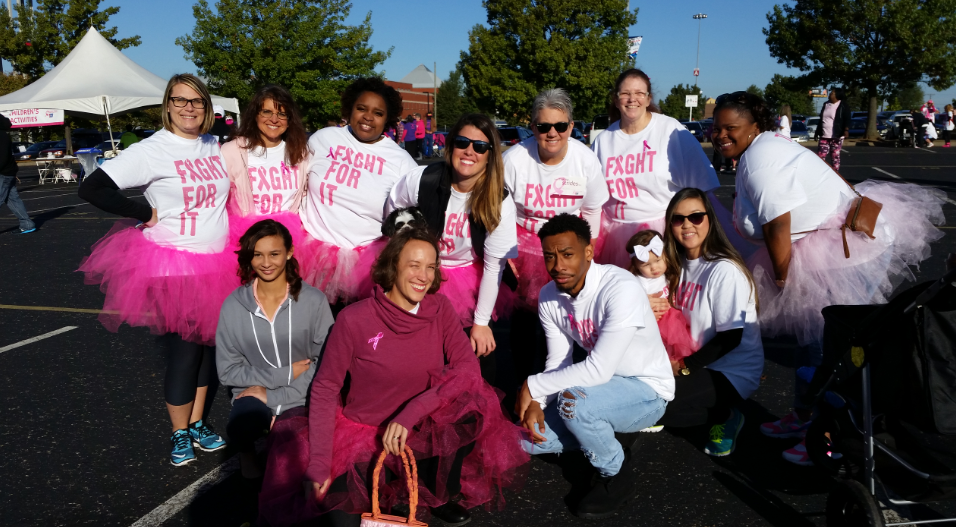 In the end, I worked in retail for almost three years – well after I had finished my doctorate, had moved to another state where I tried to make yet another community. I always enjoyed thinking about the mixtures made possible by my entry into retail as a 30-something married academic, and how this mixture was met by my teammates' – and customers' – many mixtures. Friends, acquaintances, another customer, another employee, circulated around and through one another, in constant relational motion. I will never be able to see me as my grocery store 'friends' saw me, but I am reminded of a small statement a counselor once confronted me with (and this is meant in the least narcissistic, and the most spirited tone possible): "You make a bigger difference than you think."
Becoming performing artist
At 6-feet tall, I do not play basketball, I promise. Instead, every week for the past 15-years, I have headed to open spaces at local gymnasiums, blasted music in my headphones, and let my body express movement that these components enable and work through me.
During my Narrative Inquiry class with Kelly Guyotte in Spring 2015, my classmates encouraged me to use dance for a creative, open-ended project that would lead to a performance. But putting dance into performance mode was a struggle for me. What shape would narrative take in performance? Whose narrative would I be expressing? While we explored many meanings of narrative in this course, I was ultimately dissatisfied with my production, the supposed finished, understandable 'object' of my exploration (Roth, 2014).
It turns out, the performance – for me – was the starting point of a litany of thought (an Event, Deleuze & Guattari, 1994) that made explorations of dance and narrative objects*-in-the-making (Roth, 2014) to me. For example, I'm very drawn toward Deleuze & Guattari's (1977) conception of the body-without-organs as an expression of my non-performance dancing, where the bounds between me and the music are loosened, and I resist the desiring-production imposed by norms surrounding dance (as purposeful). On this point, I was very taken by a recent gallery aired by the Met Breuer Museum in Manhattan titled "Unfinished: Thoughts Left Visible." By seeing and deliberating over art as in-process, and working on the artist just as much the artist works on the art (as in physics, a good ol' action-reaction pair), I think we come to an understanding of ourselves as always in-the-middle, and never finished, and not commodifiable, and… The dissatisfaction I experienced in my dance creation was consequently productive, enabling lines of thought and creation that slip past other social pushes for quick production of countable products.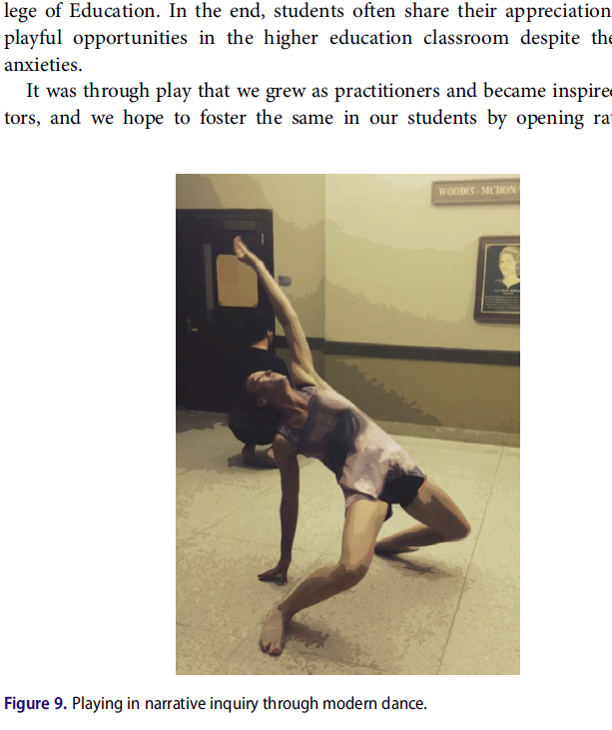 More recently I have enrolled in the adult ballet classes with the Central Pennsylvania Dance Workshop. I was surprised when my ballet instructor invited me to perform as a lead role in a reader's theater production of A Bold Stroke for a Wife as part of the 2019 Central Pennsylvania Theater and Dance Fest. In preparing for this performance I appreciated the different kinds of thinking and behaving this line of study (theater) inspired in me. I had to value my voice in ways that I don't normally, for the integrity of the play - slowing down, inflecting, pausing on purpose, rather than reading fast to get my lines over with (which was certainly my default at first). If I didn't understand my lines (okay, the English was a little different back in the 1700s when the play was written) or my character's disposition, I realized the audience wouldn't either. Further, the relational modes of speaking - that everything I said (and say) was in direct response to other persons or phenomenon - was all the more obvious.